Quality accommodation on Kapiti Coast
The Arcus private residence on the Kapiti Coast offers highly rated, comfortable AirBnB accommodation, just 45 minutes from Wellington.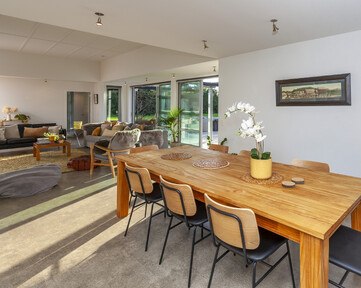 Great for festive gatherings
Create memorable moments with family and friends sharing good food and wine
Help us plant trees
When you stay at our Arcus AirBnB accommodation, your wonderful support helps fund our inter-generational tree planting project, creating an arboretum and special nature reserve for future Kiwis to enjoy.
"What a great place! Such a lovely communal space. The kitchen is well-equipped and made cooking a pleasure. All the beds were super comfy! The outdoors is epic. Great for games or just relaxing."
"This is a great place for a family group, sharing meals and moments. It's like staying in a park with an idyllic outlook and privacy. Wish we could've stayed longer. Cannot recommend highly enough."
"5 stars hands down. Need a get away from reality? This is a definitely the place, even if it was just a weekend. My friends and I enjoyed every moment. The house was the highlight of our holiday."

Explore the beautiful Kapiti Coast
During your stay, you can explore excellent bush walks and nature reserves in the Kapiti and Horowhenua regions or take a tour over to Kapiti Island. It's an easy drive to Te Horo, Peka Peka and Waikanae beaches, and to convenient shopping in Paraparaumu and Otaki. You can enjoy amazing food eateries dotted all along the Coast from 50-50 Degustation Restaurant, Thai Tuk Tuk on the Waikanae shoreline, to Ruth Pretty's boutique café and cooking school.
Still plenty to do at Arcus during the cooler months
In the cooler months, you can retreat around the fire, soak in the spa, choose from a huge selection of games, read books from the extensive library, and simply appreciate the changing colours of the established trees as winter comes in. Or you can venture out and go bowling, visit the indoor pool and hydro slide or the movies in Paraparaumu.
Let nature give you that holiday feeling
Nature does the work for you at our Arcus 'bed and breakfast' accommodation. People tell us they feel a sense of a calm the minute they arrive. There's nothing to do if that's your heart's desire. You can simply lounge around the extensive tree-filled property and take in the wonder of the starry skies. Or you can explore nature's playground: hire a bike or kayak, swim in Otaki River's secret water holes or explore the Kapiti coastline.
Visit AirBnB to book your next holiday
The Arcus accommodation combines the cosyness and comfort of home with the ambience of a private nature retreat. Just 45 minutes from Wellington and 10 minutes from Waikanae, it makes the perfect weekend getaway or family get-together in the school holidays.